Preparing to Sell Your Home
Don't just put it on the market without any advance preparation. A few minor touch-ups can go a long way towards making a favorable impression on potential buyers — and perhaps cinching a deal. Put your buyer's hat on and walk thru your home like it is the first time. Make notes on what you, as a buyer, would notice, and then repair or replace those items. This includes getting rid of clutter, hiding family photos, cleaning out closets, removing excess or oversized furniture, and cleaning. These tips are among the 21 top ways to prepare your home for a sale. Let's look at the others:
. 1) You must prove that you have had 2 years of steady employment in the same line of work where your income has remained the same or increased. Your credit score should be 620 or higher with fewer than two 30-day late payments in the past 12 months, one 60 day late payment and any other late payment in the last 12 months, or one 90 day late payment in the last 12 months.[1] However some lenders can accept a credit score of 580, which is the minimum credit score required by the FHA to insure a loan.
2) Your bankruptcy discharge date cannot be within two years of the FHA case assignment date or had a foreclosure in the past 3 years. However, if the foreclosure was on a HUD loan, then you may have to wait longer than three years.[2] If you have, you will likely not qualify for an FHA loan.
3) FHA Loans are available only for primary residence occupancy. You have to intend to live in the property you're buying.
4) You must also, of course, have the cash to pay the down payment on your loan (the minimum down payment required is generally 3.5% of the purchase price). MEET WITH AN FHA APPROVED BROKER
Only certain federally-approved brokers can offer these special loans. Mortgage Heaven is authorized to make FHA loans. You can find a mortgage broker near you by using the FHA Lender finder available on the United States Department of Housing and Urban Development (HUD) website.[4]
In order to originate FHA approved loans, mortgage brokers need to meet specific licensing and approvals depending on their area. If mortgage brokers are not FHA approved, some will channel their FHA loans through an intermediary source. Ask your mortgage originator if they are FHA approved or if they will be going through a third party for their FHA loans. In some cases, borrowers may face higher closing costs to cover this servicing channel. In addition, the extra party involved can sometimes slow the mortgage process and make it more difficult for direct communication.  In either case, ask this question when shopping brokers, as it can be helpful to find out how your FHA loan will be processed. SAVE MONEY FOR A DOWN PAYMENT
Since FHA down payments are calculated by multiplying the sale price of the home by 3.5%, if you don't know the specific sale price of the home, you won't be able to come up with an exact figure for that down payment. Figuring out how much to save in the early days of planning requires a bit of simple math–buyers should try to find a price range for homes they want to buy and start saving for the down payment as early as possible, calculating a minimum of 3.5% of the highest figure in that price range just to be safe.
There's no reason why you can't choose a lower amount, but be ready to make up the difference if you find a home you're qualified to buy that has a higher price tag than anticipated. The reverse is also true–FHA mortgage loan applicants can put more money on their down payment in order to lower monthly mortgage bills-there is no requirement that the borrower must only pay the 3.5% minimum. One important detail to be aware of–the FHA requires down payments be made by the buyer. The seller is allowed to offer concessions such as paying closing costs or other expenses related to selling the home, but the seller is prohibited from contributing a down payment.
SIGN UP AND GET A FREE LIST OF FORECLOSED HOMES
You can save thousands of dollars when you buy a bank owned home! PREPARE THE NECESSARY DOCUMENTS
To apply for a loan, you'll need to provide the FHA-approved lender with documents that prove your employment status, savings, credit and personal information. The documentation that you'll need is fairly extensive, including job records, tax documents, and personal information. Be prepared with the following when you apply for an FHA loan:
Loan Application.
Form HUD-92900-A.
SSN Verification.
Credit Report.
Verification of Employment.
Tax Returns.
Sales Contract.
FHA Amendatory Clause.
Real Estate Certification
Appraisal Report COMPLETE A LOAN APPLICATION
Your FHA-approved lender will be able to provide you with the correct application documents for your loan. Fill the application out as carefully and as factually as you can. If you don't know certain pieces of information, look them up. Don't guess – knowingly lying on federal documents is a crime.
You may want to get pre-approved for your FHA loan. Talk to your lender about pre-approval – if your credit history and financial situation are in good order, you're more likely to be pre-approved. Before you fill out the application, you may want to look the document over to ensure you understand all the questions you'll be required to answer. SELECT A REAL ESTATE AGENT
Hiring a Real Estate Agent to help you locate your home and help you submit offers is a no brainer. It doesn't cost you any money to have an agent represent you on the purchase of what will most likely be the largest asset you own. Buyer's Agents are paid by the seller of the home.
Navigating a real estate purchase is tricky business. The web has made it possible to do a lot of the legwork yourself, but there's no substitute for an experienced professional. A good negotiator who knows the market can save you time, money and heartache by helping you make the right offer—playing hardball when necessary—and staying on top of the process.
Don't just call the agent on a listing you like and sign up. That agent is working for the seller, who (naturally) is trying to get you to pay top dollar for their home. You need a "buyer's agent," who represents you exclusively. Mortgage Heaven has a built a network of vetted Real Estate Agents that we can refer to you to nationwide.
MORTGAGE CALCULATOR
(Relax. It's just an estimate. And it's for Your Own Good.)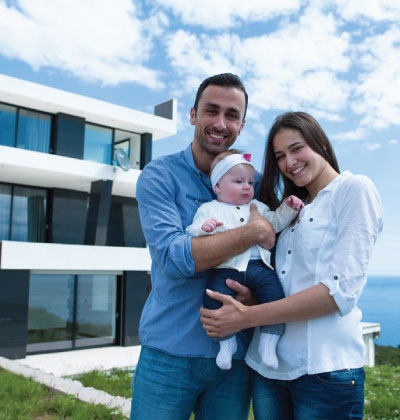 GETTING YOUR OFFER ACCEPTED
You're finally ready to take the plunge and put in an offer on your dream house. You found something that is perfect for you and your family's needs, and you're willing to pay the asking price. It's a sure thing, right? Not so fast. It really depends on the market. Ask your Real Estate Agent if you find yourself in a Seller's Market or a Buyer's Market.
A Seller's Market means that there are more buyers than there are homes available for sale. It may mean that your full-price offer just isn't going to cut it. So what can you do to get that perfect house you've searched high and low for? Your agent may suggest things such as: 1) Waiving your home inspection or shortening the contingency period. 2) Offer above-asking. or 3) Putting a stronger down payment or deposit.
A Buyer's Market typically means that there are more homes than buyers available. In this case, buyers have leverage and can take advantage of lower deposits, and even make offers contingent of the sale of their own home. HAVE THE PROPERTY APPRAISED
Even if your application is accepted, you can still be denied a loan if the property you wish to buy doesn't pass a proper appraisal and inspection by an FHA-approved appraiser. However, keep in mind that the lender or broker must be the one to order the appraisal on behalf of the borrower. The appraisal cannot be ordered by the borrower.
The appraisal is performed for two reasons: 1) To ensure the property complies with health and safety regulations and 2) To determine the property's value, which also takes into account the value of similar homes in the area.
If you use an FHA loan to buy a house, the property will have to be appraised and inspected by a HUD-approved home appraiser. This individual will determine the current market value of the property, and will also inspect it to ensure it meets HUD's minimum property standards. Be sure to read everything before you sign the final paperwork. Never feel afraid to ask for clarification on anything you don't understand.
Closing costs are generally 3.5 to 4 percent of the purchase price of your new home. Closing costs are miscellaneous fees and expenditures associated with acquiring a home loan, such as attorney's fees, the fee for the property appraisal, title examination and insurance, prepaid interest, property taxes, the recording fees and others. Take these into account when you're budgeting for your loan because you'll need the money for these costs on top of the money for your down payment.
Expect to pay a loan origination fee of 1 percent or more of the value of the loan as well. If they charge more, negotiate the terms down to 1 percent, less than 1 or choose a different lender. Make sure to shop around with different lenders and brokers to get the best rate. Some may not even charge an origination fee. MOVING INTO YOUR NEW HOME
Congratulations on your new home! Here are a few small tasks we recommend that will help you move right in and start enjoying years and years of enjoyment with your Family.
Change your address with the post office
Arrange for your old utilities to be cancelled and change the new gas, electric, water, garbage, and sewer utilities to your name
Setting up internet service
Hiring a reputable mover
Getting moving boxes
Inventorying all your possessions (there are a bunch of good tools available to document your stuff)
Complete a Free 3-D Virtual Tour of your home BEFORE you move in.
SIGN UP AND GET A FREE LIST OF FORECLOSED HOMES
You can save thousands of dollars when you buy a bank owned home!
Having sold over $1 Billion dollars in real estate sales volume, REH Real Estate Agents have witnessed firsthand the wide array of emotions that selling a house can bring out in people. While it can be stressful, it is can also be incredibly rewarding depending on what prompts the sale. A job promotion or a new addition to the family is always an exciting new chapter in everyone's life. That being said, we have navigated the waters of some of the most difficult transactions that have involved
probate
,
divorce
, and even foreclosure sales with the utmost discretion & sensitivity of the client.
The goal of every Home Seller is to sell quickly and for the most money. Below is a "To Do List" for all Sellers as they prepare mentally & physically for the big move.
Step No. 1 – Make a Decision
As simple as it sounds, making the decision to sell is the most important first step. It is not an easy decision and is going to be largely based on your personal timing.  The market can be booming, home values might be accelerating, and the media might call it a seller's market, but if you're not ready to sell, none of that really matters.  Likewise, the market can be tanking, prices can be in free fall, and you may even have negative equity, but when you have to sell, you'll sell.
---
Selling your home is all about your personal timing.
---
The sales process is much easier when you've made the decision to sell versus having to be convinced that you're doing the right thing throughout the entire process. In some instances, external factors such as tax implications may make a sale less attractive. In those cases, it is necessary to seek professional guidance and weigh out all the options before making the decision to sell.
Step No. 2 – How Much is My House Worth?
Price your home too high and it will sit. Price your home too low, and while it may sell quickly, you could potentially be leaving money on the table that could have gone into your pockets. So which is better?
Again, it bears repeating that it depends on your own personal timing, but the general rule of thumb is that over-pricing your home in hopes that home buyers will get you to come down on price, does not work. In fact, it has quite the opposite effect. Instead of attracting offers, over-pricing your home helps sell your competition. Think about it. Do auto dealerships try to over price each other to get customers though the door? We all know the answer to that question is "No."
---
Instead of over or under pricing the home, why not just price it right?
---
There is no glory in under-pricing either. I cringe at statements like "SOLD $70,000 over asking price!" as this is the equivalent of shouting "I underpriced it by $70,000!" Granted, if your home suffers from deferred maintenance and is in need of repairs, the sales price should and ultimately will reflect those items that require attention, but that doesn't mean we need to give away the farm. There's no need to hide from a repair or a blemish that cannot be cured prior to placing it on the market. Instead, acknowledge it, adjust the price accordingly, and prep it for market.
HOW MUCH IS YOUR HOUSE WORTH?
Enter the property address and we'll do the rest!
Step No. 3 – Hire the Right Real Estate Agent
It's always a good practice to interview more than one agent. You will notice that many of the top producing agents share similar strategies and marketing techniques. This does not make one necessarily better than the other. Some people prefer Nordstroms and some people prefer Saks 5th Avenue. Ultimately, when you've got two great agents, it boils down to who you feel most comfortable with. Avoid interviewing two or more agents from the same office. A great agent will be able to provide references and client testimonials. To schedule a consultation, call me toll free (888) 727-0REH or email Magic@REHrealestate.com.
The consultation is free, and there is no obligation.