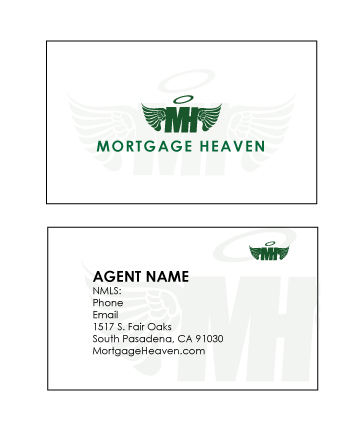 MH Business Card 2
All TEMPLATES are FREE TO CREATE & download. Loan Officers are responsible for their own printing expense. The application is mobile friendly as well, but best results are done on a desktop.

When you are done designing, DO NOT CLICK the SAVE or APPROVE button or it will force you to register and you will not have immediate access to your order until it is manually approved.
For INSTANT ACCESS CLICK  the RED CIRCLE icon in the bottom right hand corner of the designer screen.
Steps :
CLICK on "DESIGN ONLINE" button.
Modify all text as necessary.
By using the Mortgager Heaven Online Print Tool  you agree to the following :
The online print tools are made free to Mortgage Heaven Loan Originators. MH makes no claims as to the accuracy, completeness, timeliness or quality of any product produced by any of our online printing tools. Mortgage Heaven, at its sole discretion, may modify, replace, or discontinue this free service. It is your responsibility to check this Agreement periodically for changes. Your continued use of or access to the website following the posting of any changes to this Agreement constitutes acceptance of those changes. You, the user, assume full responsibility for the content created using the MH Online Print Tool and for any inaccuracies, either known or unknown.
$0.00